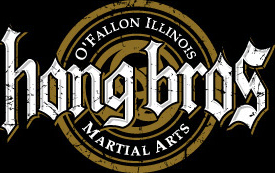 HONG MARTIAL ARTS NEWS
| | | |
| --- | --- | --- |
| | | Congrats to Colton Lasley on acheiving the rank of Black Belt. |


---
O'Fallon, IL Karate, Tae Kwon Do, Kickboxing and Basic Ground Fighting
With over 15 years of teaching and 26 years of training experience, Hong Martial Arts teaches self-defense while improving self-confidence, discipline, concentration, coordination, strength, flexibility, balance, weight loss, physical fitness, and overall sports performance.
Our program is ideal for the development of young children and great for adults to get in shape, learn self-defense, and relieve stress.
Our classes are held in the basement of the Katy Cavins Community Center, located at 308 East Fifth Street in O'Fallon, Illinois. It is right off of Highway 50 behind the O'Fallon, IL Public Pool. (When facing the Katy Cavins Center use the door on the left side of the building to enter.) Click here to view a map.
We have students, and welcome students, from O'Fallon IL, Belleville IL, Collinsville IL, Fairview Heights IL, Lebanon IL, Maryville IL, Mascoutah IL, Scott Air Force Base - Scott AFB IL, Shiloh IL, Swansea IL and Southwestern Illinois/St. Louis Metro East.
Hong Martial Arts Philosophy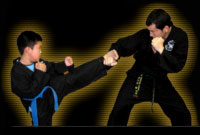 Our number one concern is that our students have the ability to defend themselves in real situations. That is why we have altered traditional training methods and practice a combination of martial arts. For instance, Tae Kwon Do is great for physical development and as a sport, however Tae Kwon Do does not allow punching the face (even though that is usually the first thing someone tries to do in a real situation). When sparring in class we do allow punching the face and believe it is crucial that you learn how to defend from such an attack.
Many situations end up on the ground, and most will, if one of the opponents is trying to take it there - so being able to defend and submit while on the ground is extremely important. For self-defense on the ground, we teach the basics of ground fighting.
As far as forms (poomse/katas), we do teach them. Some martial artist argue that they are unrealistic and useless. We agree that they are unrealistic, however, they are NOT useless. They are great for improving ones balance, coordination, timing, speed and strength - along with being a great cardiovascular workout. Forms also help younger students concentrate and think.
We also work to instill the following qualities in all our students: self-confidence, self-discipline, respect towards others, development of a solid work ethic, and good health.
Hong Martial Arts Mission Statement
To provide our students with the knowledge and tools they will need to protect themselves in real self-defense situations while instilling self-confidence, self-discipline, respect towards others, good health, and the development of a solid work ethic.