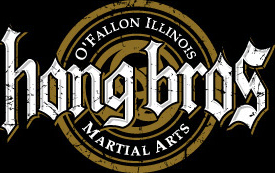 To provide our students with the knowledge and tools they will need to protect themselves in real self-defense situations while instilling self-confidence, self-discipline, respect towards others, good health, and the development of a solid work ethic.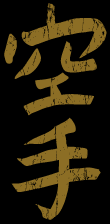 Karate

Karate - O'Fallon, IL
---
About Karate
Karate, Japanese for "empty hand", is a martial art that originated in China and made its way to Okinawa, mainland Japan and Korea.
Karate focuses on hand techniques and low kicks. The hand techniques include hard blocks combined with strong straight punches. The kicks used are usually low, from the ribs to the knees. Traditional training practices involve extreme repetition of techniques, heavy conditioning, sparring and katas, also called forms or poomse. Some martial artist argue that katas are unrealistic and useless. We agree that they are unrealistic, however, they are NOT useless. They are great for improving ones balance, coordination, timing, speed and strength - along with being a great cardiovascular workout. Forms also help younger students concentrate and think. Karate is less flashy than Tae Kwon Do, but much more effective in real self-defense situations.
Both Jacob & Justen Hong have 5th degree black belts in Karate. The Karate styles they teach originate from the Tang Soo Do and Moo Duk Kwan systems. They were taught directly by their father, Grand Master Young Hong, who started his Karate training in 1957 at a school in Seoul, South Korea.
Hong Martial Arts has altered traditional training methods and teaches a combination of martial arts that include: Karate, Kickboxing, Tae Kwon Do and Basic Ground Fighting.
Pictured Above: Jacob Hong demonstrates a side kick to the ribs.